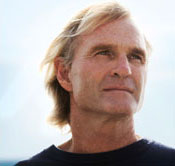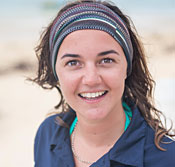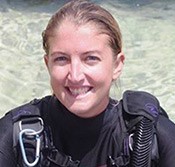 NICK BUCKLEY - Master Instructor
Nick Buckley is a Master Instructor and has been in Grand Cayman for 20 years. With over 18,000 dives from around the world to his credit he has instructed divers from all walks of life. His travels and work experiences with some of the top underwater free divers, photographers and film makers has allowed him to dive the worlds oceans. He created Deep Blue Divers as an intimate, exclusive operation for customers looking for the ultimate in underwater experience .
ALICE - Open Water Instructors
Alice, originally from Leeds in the North of England spent three years studying Marine Biology at the University of Essex, then went on to do a Masters in Tropical Marine Biology. Having dived throughout the world from cold quarries in England, to tropical reefs in Indonesia and Mozambique, the warmer, clear waters are definitely what she prefers! Wanting to escape the english winter, she came to Grand Cayman to work as a dive instructor and make the most of the Caribbean sun!
NIALL - IDC Staff Instructor
Niall is from Scotland but spent his early years in Saudi Arabia. He learned to dive in the Turks & Caicos, and built experience in the relatively unspoilt waters of the Red Sea off Jeddah. After leaving secondary school in Edinburgh, he moved to Zanzibar where he worked and gained his Instructor qualification. In April 2013, he moved to the Cayman Islands to complete his IDC Staff Instructor qualification and decided to stay on in a place where he feels very much at home. Niall loves the micro-life in the ocean, and is a keen underwater photographer.
RHYS - Open Water Instructors
I have always been a water person starting with surfing and sailing from a young age, I used to competitively race dingy's until moving onto teaching sailing. Once I tried diving I realised that it was defiantly for me and was instantly hooked. I love the weightless feeling while underwater along with looking for all the amazing creatures you find. Since being an instructor I have taught many courses ranging from resort courses to dive master courses.
AMANDA - Open Water Scuba Instructor
Amanda grew up in Clearwater, Florida. She fell in love with the ocean at an early age and became Open Water certified as soon as she was old enough. After studying marine biology in college she worked for the National Park Service in Miami, Florida, trying to remember all the Latin names of reef fish and removing invasive lionfish from the Park. When her contract ended, Amanda took a six-week trip to Australia where she got a job on a dive boat, motivating her to continue her dive training and become certified as an Open Water Scuba Instructor. Her quick trip turned into two years of traveling and working as an instructor. Amanda worked around Australia, Thailand and Mexico before landing here on Grand Cayman. She is an affirmed fish nerd and is waiting for the day her gills finally develop. You'll find her juggling a variety of different jobs around the dive center, both in and out of the water.